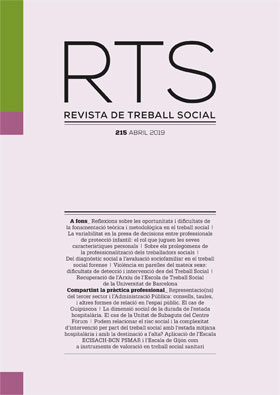 The RTS (Social Work Journal), published by the Official Association of Social Work of Catalonia (TSCAT), is a specialist journal that has been published since 1960, nowadays every six months (June and December). Its aim is to help enhance professional action by conveying theoretical and practical knowledge along with critical, transformative reflection surrounding social intervention.
The RTS publishes articles on original research, theoretical projects and practical experiences associated with social work, social services and social policies.
Two issues a year are published, drawn up based on the free submission of articles, along with a third issue devoted to a relevant monographic topic from the present day. The articles are presented in Catalan and Spanish with the occasional article in English as well.
Ongoing receipt of articles
Original articles may be submitted to the RTS at any time via this very platform by following the directions set out in the section "Submissions".
System for review of articles
The selection of articles is performed by means of the external, double-blind peer review system.
Free access policy
The RTS seeks to contribute to global knowledge sharing and, as a result, offers open access.